We have great programs for everyone!
Seaport Youth Carving Club
Join master carvers and learn the art of decoy carving and painting. Open to students ages 11-17. Meets the 1st and 3rd Saturday of each month from 1-3pm.
Pickin' on the Porch.
Join us on the first Sunday of each month from noon til 5pm for a jam session. Come to pick and sing, or to just listen. We'll swap songs, tell stories, and share a pot of beans and homemade bread. Acoustic instruments only please! Bluegrass, Country and Old Time Music. Hosted by Linda & Bill Salmons.
Voices of the Barnegat Bay Outreach.
Experience the real Jersey Shore without leaving the school. We offer intimate, effective programs with the flexibility to accommodate a single class for a day of topical immersion or multiple classes rotating through a series of hands-on stations. This is a high quality field trip experience at your facility.
Jersey Traditions
Bring New Jersey's traditional arts alive in your classroom with a NJ artist or master craftsperson. Students will learn about Barnegat Bay arts and create their own "instant heirloom." Choose from shorebird "flattie" style decoy, South Jersey berry basket, oar-lock bookends, quilt squares, or a school quilt.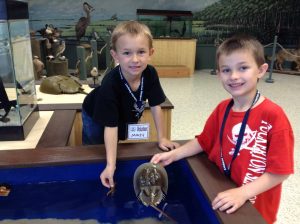 Monthly Science Talks
Join us on the 2nd Wednesday of each month (September to May) for an informative talk on topics related to the local ecosystem and other scientific based subjects from scientists, community scholars and traditional artists. Seating is limited; reservations required. $2 / add $6 for lunch. Call 609-296-8868 / Sponsored by JCNERR.
Federal Junior Duck Stamp Conservation and Design Program
In 2018, after almost 20 years, The Wetlands Institute handed over the reins of State Coordinating Host Site to the Tuckerton Seaport and Baymen's Museum with assistance from the Forsythe National Wildlife Refuge.
Submission due date is March 15!
All artwork for 2019 MUST be sent to:
Tuckerton Seaport & Baymen's Museum
Attn: Catherine McLearen
120 West. Main Street
Tuckerton, NJ 08087
The Federal Junior Duck Stamp (JDS) Conservation and Design Program is a dynamic education program that teaches students in kindergarten through high school about wetlands and waterfowl conservation. The program combines scientific principles and nature exploration with visual and language arts, bringing new interest to all of these disciplines.
Dedicated teachers and parents incorporate the JDS program into various learning environments – public and private school classrooms, home schools, and non-formal education settings such as scout groups, 4-H and national wildlife refuges. After learning about wetlands and waterfowl conservation, students create drawings and paintings of North American waterfowl species to submit to their state Junior Duck Stamp Art Contest. The winning art from each state is judged in a national contest.
The winning art at the national level is made into the Junior Duck Stamp, which sells for $5 and raises money for environmental education. More than $200,000 has been raised through the sale of these stamps. At the national level, students with the top three art entries and the top conservation message receive scholarship awards. In addition to receiving a scholarship, the first place winner and a parent participate in the First Day of Sale Ceremony for the Federal and Junior Duck Stamps.
Catherine McLearen, New Jersey State Coordinator, Federal Junior Duck Stamp Program
Phone: 609-266-8868, ext. 122
Email: catherinem@tuckertonseaport.org
Eligibility Guidelines and other details can be found on the U.S. Fish & Wildlife Service website:
https://www.fws.gov/birds/education/junior-duck-stamp-conservation-program/junior-duck-stamp-contest-information.php
Download the Junior Duck Stamp Contest Brochure here:
https://www.fws.gov/migratorybirds/pdf/Education/junior-duck-stamp-conservation-program/JDSPBrochure.pdf
Download the Entry Form for the Junior Duck Stamp contest here:
https://www.fws.gov/migratorybirds/pdf/Education/junior-duck-stamp-conservation-program/EntryForm.pdf