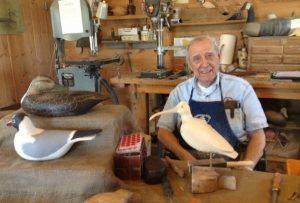 Tuckerton Seaport not only survives but thrives thanks in large part to the outstanding efforts of our volunteers!
Volunteers fill many roles at the Seaport by offering their enthusiasm, talent, dedication, and humor. In exchange, we promise you fun, responsibility, good friends, and the opportunity to learn. Training is provided to teach you everything you need to know.
Many volunteers are needed daily to ensure the continuing success of the Tuckerton Seaport and that our visitors have the best experience possible.
Each month volunteers (ranging in age from 11 to 92 with varying backgrounds) offer their time and talents, unselfishly and unconditionally. Volunteer opportunities are available in many areas of the Seaport—from artistic to clerical.
If you are interested, we encourage you to join the Seaport's volunteer staff. Click the button below for a form.
COVID 19 Safety Precautions: At the Seaport, the safety of our crew is our top priority. Volunteer assignments have been redesigned to ensure social distancing at all times. Most assignments will have volunteers working out in the fresh air. Volunteers in our Gift Shop, now located inside the Lighthouse, have plexiglass barriers and are encouraged to wears masks. The Seaport continues to update policies to meet changing local conditions.
Junior Volunteers
Are you ready for a career? Have you decided what it is that you really want to do when you have completed your education? Do you need social service hours to meet graduation requirements? Would you like to have a great reference to bring with you to your next job interview? Do you really want to make a difference? Well, here it is—the opportunity that will meet all of those needs and more right here at the Tuckerton Seaport. Become a Seaport volunteer and have all of those needs met plus get the chance to work with a team of skilled professionals and meet exciting people and make new friends.
There are many opportunities for personal growth and development through a volunteer position at the Tuckerton Seaport. The first step is to complete an application and submit either online or snail mail to: Tuckerton Seaport, Attention: Volunteers, 120 West Main St, Tuckerton, New Jersey 08087. We will call you to set up an interview and discuss with you what you would like to gain from your volunteer experience and assign you to one of the diverse opportunities available. It's fun, it's educational and best of all you will make a difference in your community.
Docent/Tour Leaders
Docents are educators, trained to further the public's understanding of the cultural and historical collections of the institution. Prospective docents and tour leaders of the Tuckerton Seaport undergo a training process. You will also learn more about communication and interpretive skills and be introduced to the institution's collection and its historical significance. You will be provided with tools and reading lists to add to the basic information provided during training, and will then shadow experienced docents as they give their tours before ultimately conducting a tour on your own. Docents are kept up-to-date with continuous training and seminars. Come join the crew and share your talents. Please complete the registration form to begin the volunteering process at the Tuckerton Seaport.
Internships

The Tuckerton Seaport Internship experience is designed to allow students to combine theory with practice while interacting with professional staff, volunteers and visitors. Internships are available in the following areas:
Education
Folklife
Marketing
Volunteer Services
For more information on Tuckerton Seaport's internship opportunities contact Brooke Salvanto at 609-296-8868 or send your resume to Brooke Salvanto.